Turner Hall of Monroe
Monroe, Wisconsin
Swiss Movie Night
Mein Name ist Eugen
(My Name is Eugen - Rascals on the Road)

Friday, March 23, 2018; 7:30 pm
(Doors open at 7 pm)
Grand Hall; Free-will donation
---
Lausbube...or in Swiss dialect, Luusbuebe... remember that word, because you'll hear it a lot in this film! (Translates as rascal, scamp, rogue, little devil, etc.)
Based on a well-known 1955 children's book of the same name by Swiss author Klaus Schädelin, (a Swiss Reformed pastor, no less!), four youthful pranksters - Eugen, Wrigley, Bäschteli and Eduard - embark on an adventurous and not-so-direct trip from Bern to Zürich in search of the legendary treasure of Lake Titicaca and the biggest rascal of all, Fritzli Bühler. With parents and police always in pursuit of them, the boys' journey is as eventful as the destination.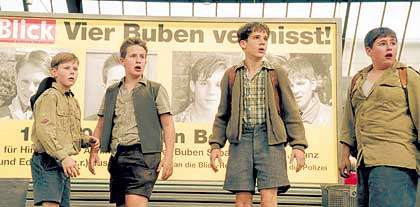 The film, released in 2005 and directed by Michael Steiner, is set in 1960s Switzerland. With 580,000 admissions in Switzerland, it is the third most successful Swiss-made film of all time. The English title, Rascals on the Road (since Americans are likely not familiar with the book), aptly describes the film's funny, playful and adventurous character. In Swiss-German, the hour-and-a-half film has English subtitles, and although not rated, is comparable to an American G-rating.
Popcorn and beverages will be available for sale that evening, with doors opening at 7 pm. A free-will donation for Turner Hall's Swiss Heritage Series will be accepted.
The following movie trailer does not have subtitles (the film does), but still gives the viewer a good taste of the shenanigans the film has in store:
More information on Turner Hall's Swiss Heritage Series is available here.