Family Bowling Lanes

Small, family-friendly, air-conditioned and clean! Housed in the lower level of the Turner Hall of Monroe, adjacent to the Ratskeller Restaurant.
(608) 325-5795 • bowling @ TurnerHallofMonroe.org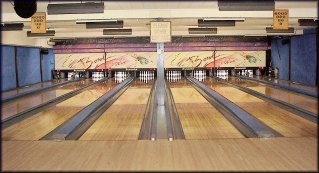 NOW FORMING SUMMER LEAGUES
Call Terry at (608) 325-5795
or at (815) 858-5261
OPEN BOWLING - SUMMER HOURS
Sunday: Available for private events
Monday: Closed
Tuesday: Closed
Wednesday: 4 pm - close
Thursday: 4 pm - close
Friday: 4 pm - close
Saturday: 4 - close
Open anytime by appointment; call (608) 325-5795
PRICES
First game: $4, plus tax (includes shoe rental)
Second game: $4, plus tax
Third game: $3, plus tax
Have your own shoes? $3, plus tax, per game

Why Not Book Your Next Party With Us!
Looking for a fun and special way to celebrate a child's or grandchild's birthday, or just want to have an event that's fun for your whole club, organization, or family? Turner Hall's Family Lanes are clean and supervised, with a great restaurant adjacent to the lanes. Just contact us using the information at the top of this page.
Our staff would be happy to chat with you about leagues, open bowling, or special events, and answer any questions you may have. Just use the contact information listed above.